Fujiwara (also referred to as Mr. Fujiwara) is a minor character from the Kishin Douji Zenki series.
He is a young human man with brown hair, dark brown eyes and a pony tail. Being a glass worker, he usually wears traditional glass worker clothing to protect himself against the extreme heat of the molten glass.
Fujiwara is Chiaki's uncle. Her grandmother Saki occasionally refers to him as a distant relative.
Fujiwara is an anime exclusive character and only appears in Episode 33. Once Chiaki and her friends leave his place at the end of the episode, he is never heard of again.
Fujiwara's personality and introduction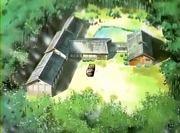 Fujiwara is a kind and gentle person, but he is also a perfectionist, which makes his live very stressful life as his glass often doesn't turn out the way he wants it to be. This ultimately leads to him getting possessed by a Karumanomi and turned into a gigantic beast made out of molten glass.
Fujiwara is first introduced in a flashback, which shows him with Chiaki (as a little girl) watching him, while he creates glass. When the little girl asks to many questions, he dismisses her, causing Chiaki to later on remember him as a gloomy person and being scared of him.
Fujiwara as he appears in the episode
More content will be added soon...
Fujiwara's dairy/journal
These are the excerps from Fujiwara's dairy/journal, which Chiaki reads out loud as she comes across her uncle's home office. They openly show how he gets more and more desperate until it just stops abruptly, when he's jumped by the seed, which was inside the old box he mentions in his last entry.
September 2nd, rain.
I failed again today.

The glass that I've been trying to create doesn't look like this.

September 3rd, rain since daybreak.
My headache got worse in the afternoon.

What am I doing wrong?

I'm starting to think that it may not be possible to create glass that will
meet my satisfaction.

I have no skill.

September 4th, sunny.
I failed again.

I got the luster but the lines are all wrong.

Just one...

Just one is all I need.

What I seek is the ultimate glass.

Just one...

I know what the problem is.

The glass is cooling off too quickly once it's out of the kiln.

I know the problem, but...

September 5th, cloudy.
I went to the shed to look for some books.

I found a strange-looking old box, so I brought it to my study.

The box must be really old.

Trivia
Japanese writing
In Japanese, "Fujiwara" is written via the Kanji and Furigana writings of 藤原 and ふじわら.

His name translates as "obscurity", which is likely a reference to the horror theme setting of the corresponding anime episode.