About the Quiz Fandom feature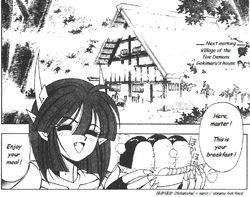 Kishin Douji Zenki Quiz Fandom is a feature exclusive to
Kishin Douji Zenki Wikia.
It was created by Goki the Kishin Douji Zenki Wikia Mascot
and is meant to emphasize on the aspect of creating quizzes akin
to interactive and branching stories.
This feature was first mentioned in the help with the new wikis thread and started out intended as its own site using the wiki backend, but due to it's non-wiki character, we decided on including this in a way similar to the Fan Fics feature that was made by Semerone, our dear Kishin Douji Zenki Wikia founder.
How to label your Kishin Douji Zenki quizzes
This section lists all quizzes on this wiki.
Feel free to make quizzes related to Kishin Douji Zenki, but if you do, please name your page this way "Fandom_Quiz_[title_of_your_quiz]_-_[author]", so that everyone knows it's a quiz or part of a quiz.
Not making the title conform to this will result in a warning and renaming of the page. (see Rule 2 of the Page Editing Rules)
You should also add it this category, so it can be found easier.
All items (2)